Important notice:
Please see page: CISS Safety Plan Fall 2021

CISS is open Monday to Thursday for visitors from 9:30am - 3:30pm. All visitors must fill out a form with the following link CISS Members Appointment bookings for all other inquiries email cissinfo@yorku.ca
For information about York University's COVID-19 response please visit York U Better together
The Centre for Indigenous Student (CISS) Services strives to create a sense of belonging and to support the academic, spiritual, physical, and emotional well-being of a diverse Indigenous student population. We provide a safe community space that offers culturally appropriate support services and programs to facilitate students' success throughout their post-secondary studies.
Recognizing that our Indigenous students are from all corners of Turtle Island, we welcome and encourage all students who self-identify as Indigenous to register with CISS to access our services and programs.
As a member of CISS, you have access to a variety of support services provided below:
ACADEMIC SUPPORT
Learning Skills and Career supports
Advice and Referrals
Writing Instruction
SPIRITUAL SUPPORT
Elder-On-Campus Program
Learning Skills and Career supports
Advice and Referrals
CULTURAL SUPPORT
Cultural Workshops include beading, moccasin, ribbon skirt, and hand drum making
Indigenousl Sharing Circle (Mentoring) Program
Tipi Site
PHYSICAL SUPPORT
Resource Room and Study Space
Photocopying, Faxing, and Printing Services
Access to Computers
Laptop Lending Program
Kitchen Facilities
Skennen'kó:wa Gamig
Are you thinking of applying to study at York? We've created a special site for you - click here.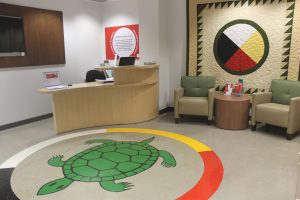 CISS Welcome area