The University is responding to the COVID-19 pandemic and the March 17 declared state of emergency in Ontario. All classes were moved to an online format as of Monday, March 16 and effective end of day Thursday, March 19, buildings on campuses will be closed with limited access for required services only. In alignment with the decisions made by the University, CISS will no longer be providing in-person services until further notice.
CISS Staff will be working remotely, and we will respond to your enquiries via email cassinfo@yorku.ca

If you need to check the status of your courses or exams, please go to my.yorku.ca. Services already offered online will continue and can be accessed through My Online Services.
For information about York University's COVID-19 response please visit York University's response to COVID-19
The Centre for Indigenous Student (CISS) Services strives to create a sense of belonging and to support the academic, spiritual, physical, and emotional well-being of a diverse Indigenous student population. We provide a safe community space that offers culturally appropriate support services and programs to facilitate students' success throughout their post-secondary studies.
Recognizing that our Indigenous students are from all corners of Turtle Island, we welcome and encourage all students who self-identify as Indigenous to register with CISS to access our services and programs.
As a member of CISS, you have access to a variety of support services provided below:
ACADEMIC SUPPORT
Learning Skills and Career supports
Advice and Referrals
SPIRITUAL SUPPORT
Elder-On-Campus Program
Learning Skills and Career supports
Advice and Referrals
CULTURAL SUPPORT
Cultural Workshops include beading, moccasin, ribbon skirt, and hand drum making
Aboriginal Sharing Circle (Mentoring) Program
Tipi Site
PHYSICAL SUPPORT
Resource Room and Study Space
Photocopying, Faxing, and Printing Services
Access to Computers
Laptop Lending Program
Kitchen Facilities
Skennen'kó:wa Gamig
Are you thinking of applying to study at York? We've created a special site for you - click here.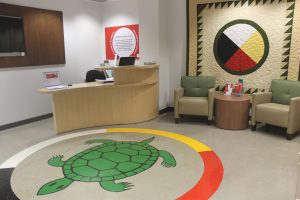 CISS Welcome area